June 25, 2022
6:00 pm / 9:00 pm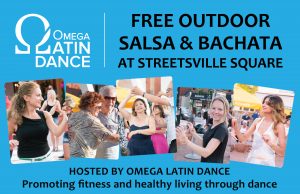 Omega is a Latin Dance school that was formed as an extension of our existing family fitness centre (W.M.A.F.F.C) that has been in Streetsville since 2001.
Salsa at the square was launched in 2015 to promote fitness and healthy living in our community and to attract more visitors to the village of Streetsville.
At Omega we believe dance to be the most fun and enjoyable activity to bring people of all ages, culture and ethnicity together to build stronger and healthier communities. This program is our best ways to promote cultural diversity, heritage and arts in Streetsville and the greater Mississauga.