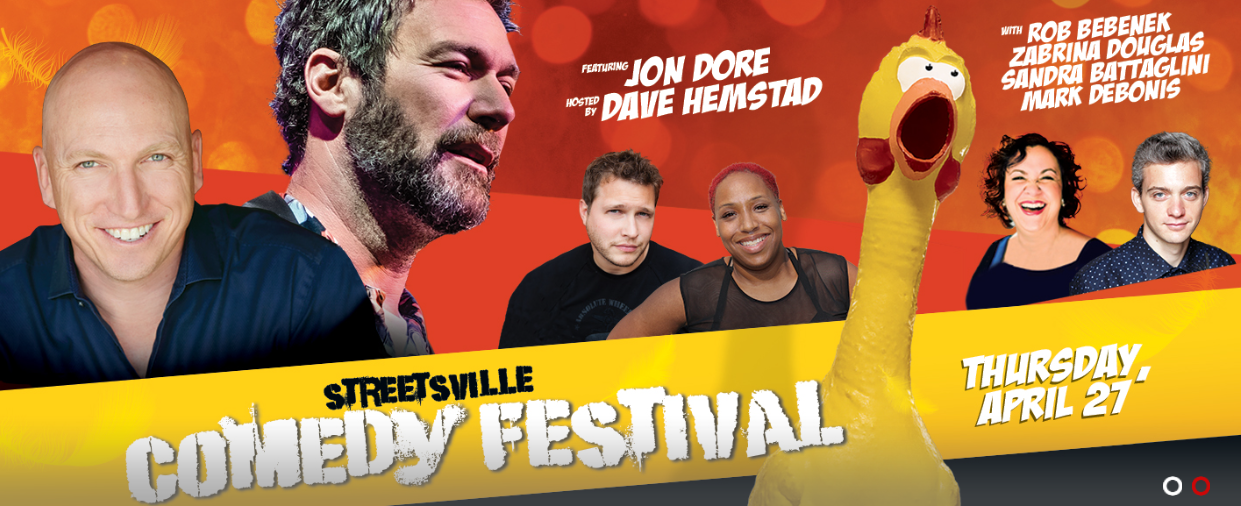 Streetsville Comedy Fest
Doors open at 7:00 p.m. showtime is at 8:00 p.m.
Please visit StreetsvilleComedy.com to purchase tickets.
Comedians
Jon Dore is a talented Canadian comedian, writer, and actor that has infused his comedic abilities into numerous hit television shows and films. Getting his start as a stand-up comedian, Dore has been able to successfully transition into acting. His comedy special, BIG QUESTIONS HUGE ANSWERS, premiered on Comedy Central.
He was the series lead in the CBS Pilot THE HALF OF IT. Jon's other television credits include a memorable guest star role on CBS' Emmy Award winning hit series, HOW I MET YOUR MOTHER, as well as a lead role on ABC's HOW TO LIVE WITH YOUR PARENTS. He's had multiple guest appearances on CONAN, BARONESS VON SKETCH SHOW, @MIDNIGHT, INSIDE AMY SCHUMER and HART OF DIXIE. His film credits include CORPSE TUB, the indie film GUS, STAG, TEEN LUST, and THE PICKLE RECIPE opposite Lynn Cohen. In addition to acting, Dore has an impressive writing resume that includes The Comedy Network's THE JON DORE SHOW, CBC's JUST FOR LAUGHS, and HBO's popular FUNNY AS HELL.
Dave Hemstad was born and raised in Thornhill, Ontario.  He was an Academic All-American golfer who was struck by lightning during a tournament, which significantly altered his career path! Since then, Dave has been performing stand-up comedy and sharing laughs around the world.
Dave is a regular and favourite on CBC's The Debaters and has written for CBC's Still Standing and for the 2016 Canadian Screen Awards. He has taped numerous gala sets at Just For Laughs, the Halifax Comedy Festival, and the Winnipeg Comedy Festival, as well as his own Comedy Now! special.
His newly released comedy album "Dad Intentions" is available online.
Rob Bebenek has asserted himself as one of the brightest new voices to come out of Canada, after appearances at the Just for Laughs festival and a breakout viral video from Winnipeg comedy festival this past year.
Quick wit and a keen eye for observation, highlight a comedy skill set that is becoming a force on stages across North America, and has audiences wanting more.
As a finalist in Sirius XM's Top Comic, Bebenek asserted himself as a major player in comedy and has since imposed his brand on Theatres, clubs and colleges, and rightly so. The man is flat out funny.
From Kitchener Ontario, Bebenek AKA Ol' Bebsie, has been drawing acclaim across Canada earning himself appearances on MTV, CBC's Debaters and opening concert series for Bob Saget, Burt Kreischer, Charlie Murphy, Steve-O, and Gerry Dee, to name a few.
Zabrina Douglas is a Canadian stand-up comedian. Her comedy album Things Black Girls Say: The Album received a Juno Award nomination for Comedy Album of the Year at the Juno Awards of 2023.
Douglas, a registered nurse, performed occasional stand-up comedy sets at Kenny Robinson's Nubian Disciples nights for Black Canadian comedians in the 2000s, and was a nominee for the Tim Sims Award in 2008.
She broke through to wider success in 2020 as the headliner of Laughter from the Frontlines, a virtual comedy show organized by Unknown Comedy Club featuring frontline health care workers performing comedy and storytelling about coping with the COVID-19 pandemic.
She subsequently organized Things Black Girls Say, a regular show at Toronto's Comedy Bar, and recorded her sets at the April 15 and 16, 2022, shows for release as an album.
Sandra Battaglini is an award winning stand-up comic, actor and writer. She is the 2013 Canadian Comedy Award winner for her solo show, Classy Lady, directed by Phil Luzi, that premiered in Toronto in 2012 and was voted 'Best Female Standup' by NOW Magazine.
Past performances include, Hard Headed Woman (Canadian Comedy Award Winner, 2007), Small Battalion of Soldiers (Canadian Comedy Award Nomination, 2005). Sandra appears in David Cronenberg's feature, Maps to the Stars that premiered at TIFF in 2014, CBC's sketch show Humantown, NBC Seeso's flagship web series, The Amazing Gayle Pile and episodes of medical drama Saving Hope and Odd Squad.
Not only has she performed throughout Canada, she has also been invited to perform in New York, Chicago and Los Angeles and was a semi-finalist in the She Devil Comedy Competition in NYC. Her comedy special 'Take it Ease' was released in 2022 and can be seen at SandraBattaglini.net
Mark Debonis took the plunge into stand up in 2008. In 2010 he won a Canadian Comedy award for "Best New Comer". He followed that by winning the $25,000 grand prize for "The Great Canadian Laugh Off".
Mark preforms regularly across North American and has been featured multiple times at the International Just for Laughs Comedy Festival, Kitchener Comedy Festival and Guelph Comedy Festival.
In 2012 Mark made his acting debut in the award-winning movie "Picture Day" where he walked the red carpet at the Toronto International Film Festival (TIFF). Mark can be seen/heard on CBC's "Accent on Toronto", CBC's "The Debaters" Much Music, Comedy Network, and his Comedy Special filmed for I-Channels "No Kidding." His latest album, Minutiae can regularly be heard on SiriusXM.