Streetsville Business Connects: June Networking Breakfast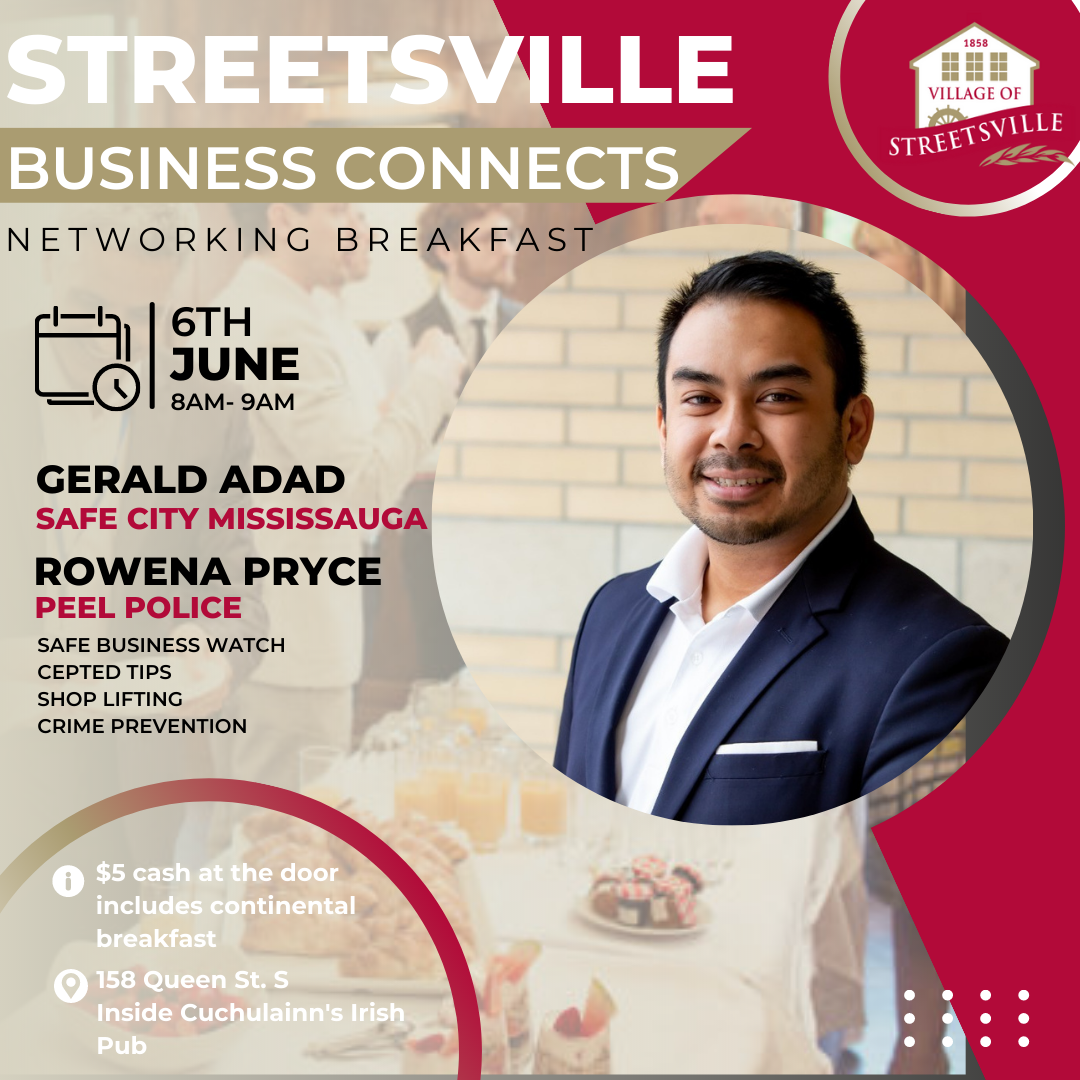 SBC is a Networking Breakfast open to everyone! Meet like-minded entrepreneurs, learn tips that will benefit your business, connect with old friends and make new ones!
The Networking Breakfasts will be held on the first Tuesday of each month from 8 a.m. to 9 a.m. Located in Cuchulainn's Irish Pub, 158 Queen St. South. Plenty of free on-site parking is available. $5 will be charged at the door.
Gerald Adad, Neighbourhood Services Manager from Safe City Mississauga
Beginning in 2019, Gerald Adad has continued to run the ever-popular Neighbourhood Watch program and has gone on to launch the brand-new Business Watch program. He co-chairs the Safe City Mississauga Crime Data Collaborative Team to manage the strategic implementation of crime and community data within the organization.
Gerald holds an Honours Bachelor of Arts from the University of St. George, majoring in Criminology and History. He possesses the Crime Prevention Through Environmental Design certification under the NICP, and is a certified International Crime Prevention Specialist under the International Society of Crime Prevention Practitioners.
Rowena Pryce, Peel Police Constable
Constable Rowena Pryce was an elementary teacher for 4 years prior to joining Peel Regional Police. She has been a sworn officer for 11 years and worked frontline at 11 Division as well as stationed in the Call Diversion Unit. Rowena has worked as an enforcement officer in the Emergency Safety Services department and is currently assigned to her role as Community Liaison Officer.
Topics:
Safe Business Watch
CEPTED Tips
Crime Prevention
Shoplifting
The next Networking Breakfast will be held:
October 3, 2023