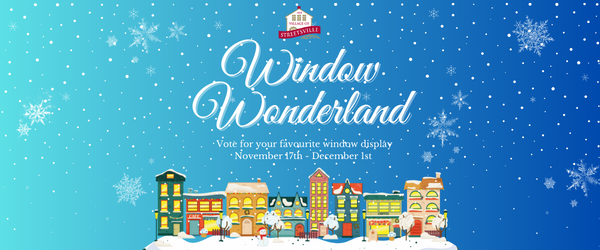 Step into the enchanting Village of Streetsville's "Window Wonderland" this holiday season. The spirit of Christmas comes alive through each participating storefront as the businesses transform into a display of festive magic.
As you stroll through the Village, you'll have the difficult task of picking a favourite. Each window tells a different story, inviting you to pause, reflect, and celebrate the magic of Christmas.
So, take your time, savor the magic, and cast your vote for the Christmas window display that resonates most deeply with your heart. Whether it's the one that transports you to a snowy forest or the one that tells a story of hope and joy, your choice will help make this year's "Window Wonderland" a truly magical experience for all who visit.
One vote per email address. Voting begins November 17th and runs until December 1st.
The top 3 displays will be determined by the public and the BIA will choose the winner. The winning business will receive $100 Streetsville Dollars and a plaque. 
VOTING HAS CLOSED
Participating Businesses:
Joanne Lipp European Skin Care & Electrolysis   11 Main St.
Little Rose Cookie Co.                                               13 Main St.
Country Charm Mennonite Furniture                   220 Queen St. S
SpaToepia                                                                    226 Queen St.
Catalyst & Co                                                               228 Queen St. S
Sage Hair Studio                                                        188 Queen St. S
WN Atkinson Insurance Ltd                                    157 Queen St. S
---