The Look of the 'Ville – Look Good, Feel Good in Streetsville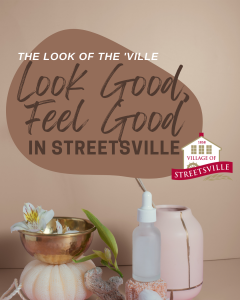 Time to freshen up your look for summer! We want you to look and feel your best with the help of our amazing personal care businesses throughout Streetsville. Stop by for limited time promotions that you'll love!
*Promotions will be running from May 30th-June 6th
Body & Soul Day + Med Spa (214 Queen St S)
"For over 30 years, Body & Soul has a reputation of unparalleled devotion to service, sophistication and elegance. We pride ourselves on cutting-edge technology, exclusive products and our highly-skilled staff & skincare specialists. We offer a wide variety of treatments, including HydraFacials, Microneedling, Laser Hair Removal, Body Treatments, Filler and more!"
Body & Soul will be offering two facials at a discounted rate: the Hydra booster facial for $175 (reg. $250) and the Micro-Oxygen Facial for $125 (reg.$165).
F45 (128 Queen St S Unit 24)
"The F45 workouts are designed to use different energy systems for a maximum burn. Their specifically curated cardio workouts will use plyometric movements, timing, and tempo to blast both your aerobic and anaerobic systems, resulting in fat burning, muscle building, and metabolism boosting sessions."
Exclusive intro offer! Get a discounted 1 month intro offer to kickstart your new fitness routine.
Joanne Lipp European Skin Care & Electrolysis (11 Main St)
"At Joanne Lipp European Skin Care & Electrolysis we offer a wide selection of services. Our services will address your most personal needs: your skin concerns, your unwanted hair, perfecting your brows and answering your most pressing questions. Elevate your look and confidence with our professional treatments designed specifically for you."
Did you know that May is melanoma and skin cancer detection and prevention month?
Get 10% off when you purchase 2 or more suncare products.
Why do we want to protect from UV rays?
They are longer rays of light that can reach through the epidermis into the dermis. The dermis is where are the building blocks for a healthy youthful skin are produced.
UVA are present at equal strength in all daylight hours 365 days a year
Broad Spectrum sun protection is the easiest and most cost effective way to help prevent the damage and aging effects of UV rays
Our plethora of sun care protects against UVA and UVB for everyday use and for sun exposure
Receive 10% off when you purchase 2 or more suncare products.
Kinks Hair Studio (7 Queen St)
"Operating in Mississauga-Streetsville for over 35 years. Kinks Hair Studio provides a variety of distinguished services to the Greater Toronto Area with a specialty in natural curly hair. Our hair studio offers a variety of services that range from our signature Hair Cocktail Treatment, Kinks Silk Blow Out, to our luxurious and completely Vegan Based Smoothing System for natural hair. Kinks Hair Studio's product line, Kinksology, is made from the finest ingredients and are formulated to rehabilitate and enhance your hair's natural texture, curl definition, and health."
Purchase the following Kinks Studio Classic Package- valued at $150 (which includes the below) and get 30% off your next appointment + receive 10% off your Kinksology products the same day (Short-Medium hair only. Longer hair will be an extra charge):
Hair consultation

Scalp Cleanse

Conditioning rinse

Cut

Blowdry

Style
Muv Therapy (15 Main St)
"We Help Active People in Mississauga Quickly Recover From Injury So They Can Go Back to Enjoying Life, Exercising, and Playing Their Sport…Free From Painkillers and Surgery. A Number of Things Set Us Apart From Other Clinics in Mississauga… No double-booked appointments, no time spent on machines or hot packs. 100% of your treatment time is spent with the Physiotherapist. Highly effective hands-on Manual Therapy techniques from nationally accredited Manual Therapists. A holistic approach to treating the entire person for a more complete and lasting return to the active life you desire."
15% off Sports Massage Therapy, 15% Acupuncture with Beatrice Chu, Physiotherapist.
Myofascial Release Mississauga (35 Thomas St)
"Myofascial Release Mississauga; helping you HEAL from chronic pain and trauma through Myofascial Release, Movement Therapy and Supporting Services."
Purchase a gift card for any of their services and receive a voucher for a FREE Myofascial Yin Yoga class.
Omega Latin Dance (205 Queen St S)
"Omega is a Latin Dance school that was formed as an extension of our existing family fitness centre (W.M.A.F.F.C) that has been in Streetsville since 2001. At Omega we believe dance to be the most fun and enjoyable activity to bring people of all ages, culture and ethnicity together to build stronger and healthier communities."
Promo special for Beginner Salsa or Bachata classes – $49 for 8 weeks.
Organic Beautique (63 Queen St S #4)
"Our Lovely Salon – situated in Mississauga in the historical Streetsville area, we believe we have created something special at The Organic Beautique.  It is our wish that every time you visit you will feel at home surrounded by our idea of the perfect balance between style and warm rustic charm. We are very passionate about natural and organic skincare, hair products and holistic wellness.  Everything we use at The Organic Beautique is natural and organic products."
With every full highlights booked receive a free hair treatment (value 85.00+)
Parkland on the Glen (1665 The Collegeway)
"Parkland on the Glen offers the best of retirement living amid the convenient amenities you have come to expect in the Sawmill Valley area. The 21-story building includes 141 beautifully appointed rental suites, including studios, one bedroom, one bedroom with a den, and two-bedroom suites. Parkland on the Glen offers a continuum of Lifestyle options including Lifestyle Apartments, All-Inclusive Lifestyle and Assisted Living to accommodate a variety of needs and preferences."
Come by for a tour of Parkland on the Glen Retirement Community from May 30th and June 6th and have your name put in to win a $200 Visa gift card to use at a Streetsville business.
Skintricate (151 Queen St S)
"Skintricate Tattoo Company is a custom tattoo and body piercing studio striving to provide exceptionally high quality services! We have seven amazing tattoo artists who each have their own niche, and are also capable of every kind of tattoo you could ask for, as well as an incredibly talented body piercer with over 15 years of experience and an extensive jewelry selection. Skintricate operates by appointment, available to be booked via our website http://www.skintricate.ca, but we also encourage and welcome walk-ins every business day, Tuesday – Saturday 12pm – 8pm and Saturday and Sunday 12pm – 6pm. See you soon!"
Book a new tattoo by placing a deposit, and receive 15% off the future tattoo appointment! 15% off piercings and 20% off merch, products, and jewelry all week!
Spa Toepia (226 Queen St S)
"Whether you're looking for massages, facials, waxing or more, we have the service to keep you feeling and looking your best! A Haven of Restoration for the Body, Mind, and Soul – whether your spa day experience is all about relaxation and pampering or about a casual, carefree atmosphere; we are certain each client will leave wanting more."
Discount! 15% off all retail products.
---