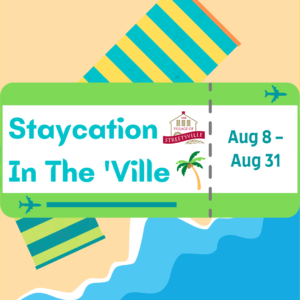 Staycation In The 'Ville is back!
Welcome to your vacation at home. Set your sails for paradise and complete one task: Participate in Streetsville's summer scavenger hunt Staycation contest for a chance to win awesome prizes! This August, join our game to win various Streetsville Prize Packs, including $250 Streetsville Dollars.
Starting August 8th- August 31st, complete the events on your itinerary to win points towards our contest.
This exclusive vacation is yours to discover. Check out how to join in below!
Download the GooseChase app for free on your smartphone or mobile device.
2. Use the in-app search feature to find our "Staycation In The 'Ville: July Contest" Game and click Join Game.
3. Fill out your raffle ballot for us to be able to contact you if you are the winner (We reserve the rights to post your submission photos/videos if you participate)
4. Complete our missions to reach 10000 points! When successfully reached, you will be entered into our contest. Once you have reached 10000 points, you can post and tag us in your favourite submission for an extra entry.
Click to download the GooseChase app on the App Store or Google Play Store.
Good luck and don't forget your sunscreen!