Valentine's Day is officially almost here and we want to help make your life easier, by providing you with a cheat sheet. We know you want to give your loved ones the best surprise but we also know how difficult picking the right place or the right item can be. Leave the headaches to us and worry about what you will wear on valentine's day instead.  
Pick one of these wonderful places right here in Streetsville and we'll guarantee you a great night! Who says you have to go far to have a romantic evening? Come to Streetsville and impress your lover with great taste and chivalry from our list. We promise not to tell them that you got some help 🙂
The list will be updated on a constant basis, be sure to check regularly for new listings. For more information and store listings visit The Streetsville Directory.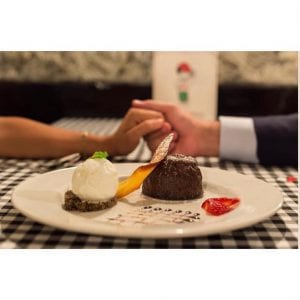 Enzo's Two Guys From Italy
Two Guys From Italy have been around for years and are experts in Italian eatery. With their home style setup, it will feel like you are in Italy and not in the cold winter of Canada.
Feature: Two Guys From Italy is offering a 3 course meal for two for $79.99 as their Valentine's special.
Website: http://twoguysfromitaly.ca Address: 128 Queen St S #17 Phone: (905) 826-5100
Streetsville Florist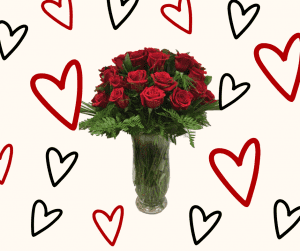 The Streetsville Florist is a local favorite, they have you covered with all your flower needs. From roses, daisies to lilies you name it and they have it.
Recommendation: For Valentines Day, they have a variety of offerings but we recommend you get a dozen roses. Nothing can beat a classic.
Website: www.streetsvilleflorist.com Address: 265 Queen St S  Phone: (905) 567-6301
Cuchulainn's Irish Pub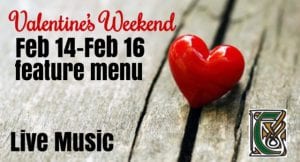 Cuchulainn's Irish Pub in Streetsville's only authentic Irish Pub! They are your go to restaurant for live music and all your British and Irish Pub eatery needs.
Feature: We recommend you order their Valentine's Menu set of either the AAA steak, Grilled Salmon or Farfalle pasta, you can't go wrong with these choices! To top it all off for dessert, make sure you get the fresh strawberries with delicious chantilly cream & dark chocolate. Don't forget that they will have live music ready to serenade you for Valentine's Day.
Website: https://cuchulainns.ca Address: 1158 Queen St S Phone: (905) 821-3790
Nathan's Den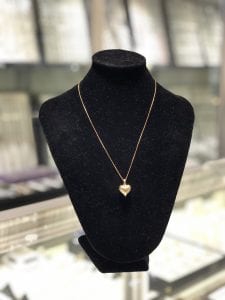 Nathan's Den is an expert in jewelry craftsmanship that has a variety of offerings from gold, diamonds, sterling silver, curios and artifacts.
Recommendation:  For Valentine's Day make sure to check out Valentine's Day inspired jewelry such as their gorgeous heart shaped pendant. With their wide selection of gold chain lengths, they will surely have what you are looking for!
Website: www.nathansden.com Address: 128 Queen St S #18b Phone: (905) 567-4235
Saucy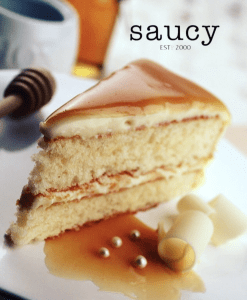 Saucy is your source for casual fine dining, friendly and inviting culture that will have you feeling relaxed. This is a great place to take someone to a first date or to your 100th date, the feeling will always stay the same.
Recommendation: We highly recommend you order their Valentine's Day feature dessert, a honey infused sponge cake layered with silky cream cheese icing with a honey butterscotch glaze. That will surely satisfy you and your date's cravings.
Website: www.saucyinstreetsville.ca Address: 111 Queen St S Phone: (905)-542-9600
Crafted Decor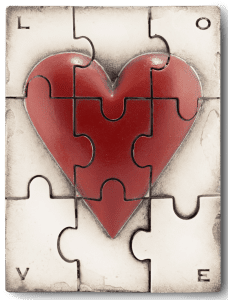 We know how difficult it can be to find that perfect gift for that special person BUT what if we told you we know exactly where you should look? Stop by Crafted Decor, an award winning store that has a variety of offerings from accent furniture, home decor accessories and jewelry! They will have that special gift, you won't find elsewhere.
Recommendation: For Valentine's Day we recommend you purchase Sid Dickens tiles! They are an exclusive collection that is made in Canada, that deliver to your valentine what words can't. A hand crafted expression of sentiment permanently displayed through art.
Website: crafteddecor.ca Address:232 Queen St S Phone: (905)-567-9795.

Jing Thai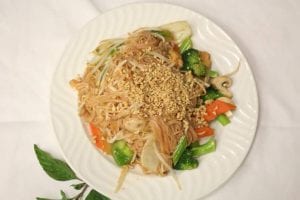 When it comes to take out or dine in restaurants, Thai and Chinese are the first ones to come to mind. Who doesn't love Thai and Chinese food?! If this is a sentiment you share with us look no further and visit Jing Thai, a family-owned Thai restaurant that has been serving their family inspired dishes for 12 years!
Recommendation: we know how expensive it is to fly to Thailand so why not bring Thailand to your date? We recommend you order one of their authentic Thai dishes of either Pad Thai, Tom Yum soup or any of their curries!
Website: www.jingthai.ca Phone: (905) 812-1312 Address: 63 Queen St S
Edible Arrangements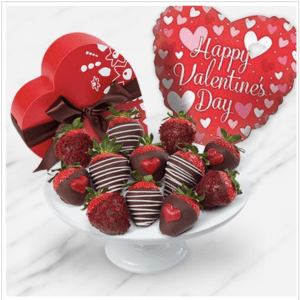 They are experts in creating unique fresh fruit arrangement, fruit bouquets, fruit baskets & platters! Inside these you will find chocolate filled strawberries, fruit, cookies and other desserts. Sweet tooth connoisseur's aka as everyone will absolutely love this and will be guaranteed to leave your valentine feeling the love.
Recommendation: for Valentine's Day we recommend you order one of their Valentine's Day inspired Box Bundles, that will have varieties of chocolate-dipped fruits. This is a great way of saying I love you without words.
Website: www.ediblearrangements.ca Phone: (905) 814 5054 Address:63 Queen St S Unit 9
The Tea Room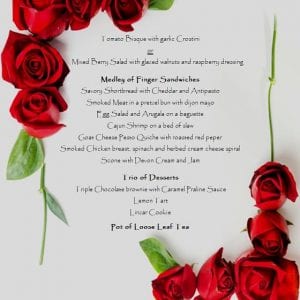 The Tea Room is an absolute gem from Streetsville, with its history alongside the ambience and the food you are guaranteed an excellent time. Located in the heart of Streetsville, it will forever be synonymous with Streetsville's legacy.
Recommendation: Book your reservations now at the Tea Room for Valentine's High Tea and they will be open later than usual until 8pm for this celebration! They will have a variety for you to choose from and a selection of desserts to choose from!
Phone: (905) 542-7674 Address: 223 Queen St S Website: thetearoomstreetsville.ca
Shop For All Reasons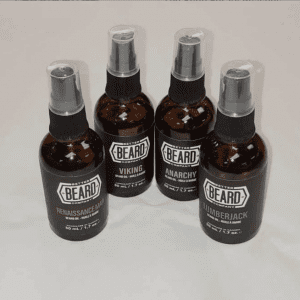 Shop for all reasons has everything you will need for this upcoming Valentine's Day. Traditionally men were often told by society to buy their partner gifts for Valentine's Day but it's 2020. It's time to change that and what better way to do that than with The Shop For All Reasons!
Recommendation: They carry a huge selection of high quality wet-shave and spa products that are often hard to come by. In addition to products for men they also have a variety of Canadian made products from jewelry, distinctive baby gifts and home decor. Take a look at Beardbrand or better beard brand products and pick one or few of their products that will keep your Valentine's Date looking good.
Address: 228 Queen St S Phone: (905) 858-9623 Website: https://shopforallreasons.com
El Mariachi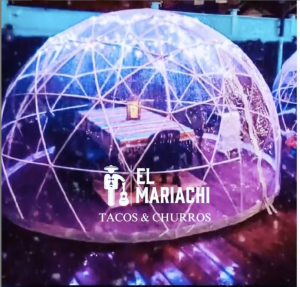 El Mariachi Tacos & Churros, will provide you good food and a very unique date spot with their igloo dining. That will guarantee an experience you probably have never had before! The igloo dining gives you an opportunity to fully enjoy dining outdoors even during the cold of winter, with the heated igloos.
Recommendation: Aside from the experience, we highly recommend you make your reservations as soon as possible to be able to experience authentic Mexican food. From their tacos to their churros, El Mariachi will give you a snippet of your future vacation or bring you back and reminisce.
Address: 235 Queen St S Phone: (905) 997-8333 Website: www.elmariachitacos.ca
Supermoon Cheesecake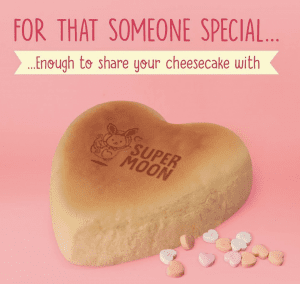 Who doesn't love cheesecake!? Head on over to Supermoon Japanese Cheesecakes to give your valentine an aesthetically pleasing and more importantly delicious Dessert
Recommendation: For Valentine's Day we highly recommend you check out their special edition heart shaped cheesecake. This is a great opportunity to finally try out Supermoon's cheesecakes if you haven't yet and for those who know, need we say more?
Address: 128 Queen St S Phone: (905) 997-6900 Website:  supermooncheesecakes.com
Cagneys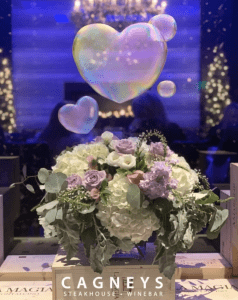 Cagney's Steakhouse & Winebar is not just your traditional upscale steakhouse. They have a huge selection of steaks, seafood and vegetarian options. You will find that there will be something for everyone! Alongside your delicious meal you will need something to drink, with Cagney's huge selection of 600 wines you don't need to worry about being thirsty. Located in the heart of Streetsville, this is a no-brainer if you still don't know where to take your date for Valentine's Day.
For Valentine's Day we highly recommend you keep it simple and order their savory prime rib, which is their specials on Fridays & Saturdays. Alongside with a delicious glass of red wine, with their huge variety will surely satisfy your palette. You can't go wrong with this recommendation.
Website at cagneys.ca Phone:(905) 826-2311. Address: 128 Queen St S.
Little Rose Cookie Co.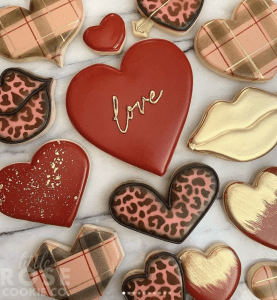 After a long journey of creating delicious desserts right from her kitchen, Little Rose Cookie Co. is coming to Streetsville! Little Rose Cookie has grown significantly since their inception and has now become a well-loved company that GTA has to offer. Make sure to join them on March 7th 12:30pm-4:30pm for their grand opening!
While their presale Valentine's day cookies are all sold out, we still want to highlight the beautiful work that they have done for their Valentine's Day collection. To make sure you don't miss out on their future presales, we highly recommend you place a custom order from them for post-Valentine's Day treats.
Website: littlerosecookieco.com/orderinquiryform Phone: 365-220-7673! Address 13 Main Street
Stavros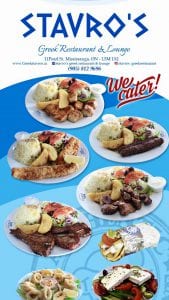 We know you may not have booked anything for Valentine's day yet but not to worry Stavro's has you covered! They are your go-to restaurant for authentic greek food deliciousness for dine in or take out. A cheaper alternative to travelling to Greece but definitely will provide the same great tasting food! 
You need to try out their Greek Befteki, combining huge portions and great taste it is to die for. But if this isn't your cup of tea, Stavros will have you and your date covered with plenty of options ranging from different souvlakis and gyros. 
Phone: 905-812-9696 Website: www.greekstavros.ca. Address: 11 Pearl St
Restore & Replenish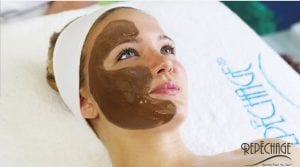 Surprise your date and treat yourself this Valentine's Weekend with a Chocolate Facial From Restore & Replenish! Restore & Replenish Spa, Wellness & Hair Studio is your local go to business for all of your beauty needs.They believe in using vegan and organic products to help preserve the environment, which only enhances the customer experience!
For Valentine's Day go ahead and book their chocolate facial (Yes, REAL chocolate!)! This is a quick 45 minute time out of your busy schedule and this cold weather. This facial includes a deep cleanse, gentle exfoliation, a warm facial steam and you can't forget the Chocolate mask to hydrate your skin. To finish it all off, a moisturizer is applied depending on your skin type. 
Phone: 647-290-046 Address: 137 Queen St South. Website: restoreandreplenish.com
---